Japan is no stranger to fertility treatment. About 370,000 women undergo IVF every year, and the treatment is responsible for one in every 24 live births, putting Japan high up on the global success index.
But in women over 40, the rate is less than one in 10 live births – a reduction that experts blame on a government policy, under which women lose their right to subsidised fertility treatment if their annual household income rises above 7.3m yen (about 19 million Naira).
Iwaho Kikuchi is the doctor in charge of a groundbreaking fertility initiative in Japan, in which public money will be used to pay for women to freeze eggs for use later in their life.
Under a three-year pilot scheme at Juntendo University Urayasu hospital, state funds are to be used for the first time – in Japan and possibly the world – to cover 80% of the cost of freezing eggs for local women aged between 25 and 34, who have the option of using them until they reach 45.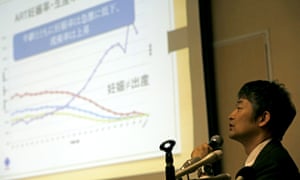 Iwaho Kikuchi speaks to the press about the pilot project. Photograph: Shuji Kajiyama/AP
The women will pay only 100,000 yen (about 269,000 Naira) towards the procedure, including injections and medication, which usually costs 500,000-600,000 yen. Urayasu, a city east of Tokyo, plans to spend 90m yen on subsidies over the three years to March 2018 to preserve women's eggs for use in future pregnancies.
"The idea is to keep donated eggs that can be used when the woman is older, and hopefully it will improve the pregnancy rate for women in that older age group," says Kikuchi, a senior associate professor at the hospital.
With Japan's low birthrate – currently 1.4 children per woman – unlikely to rise to the 2.1 level needed to ensure the stability of the country's population, experts are predicting demographic meltdown.