A 21-year-old man has been arrested after a machete attack killed one person and injured two. He was identified as a Syrian refugee. No motive is yet known for the attack.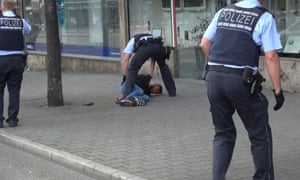 During the arrest
The man, an asylum seeker killed a pregnant Polish woman with a machete and injured two other people before being arrested in the southern German city of Reutlingen.
Witnesses said the man was having an argument with the woman before he attacked her at about 4.30pm on Sunday.
The spokesman had no immediate information about when the man arrived in Germany, or when the previous incidents took place.
It was the third act of violence against civilians in Germany in 10 days.
Last Friday, an 18-year-old Iranian-German who was obsessed with mass killings shot dead nine people in Munich before turning the gun on himself as police approached him.
On 18 July, a 17-year-old who had sought asylum in Germany was shot dead by police after wounding four people from Hong Kong, with an axe on a train and injuring a local resident near the city of Wuerzburg.
Sources: AP, Guardian