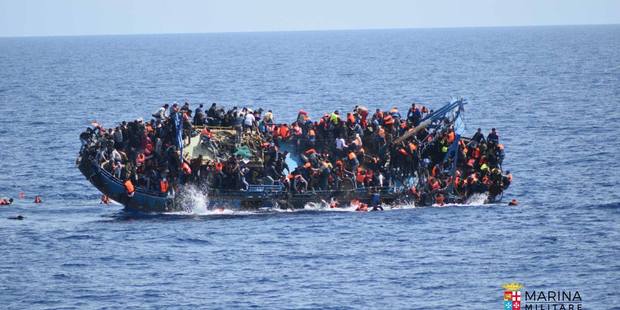 The Italian Navy managed to rescue 500 people in the water. Photo / AP
A large ship overturned Wednesday off Libya's coast with more than 500 migrants aboard, right as the Italian navy was approaching for rescue.
Crews recovered seven bodies but saved more than 500 people who were thrown into the sea.
The Italian navy said its Bettica patrol ship was responding to a migrant ship in distress when it flipped. A photo of the capsized boat taken by the navy showed migrants struggling up the side of the overturned ship, perching precariously on the exposed side as they awaited rescue, with hundreds more floating in the sea.
Crews tossed life jackets to those in the water and brought 500 to safety, the navy said in a statement.