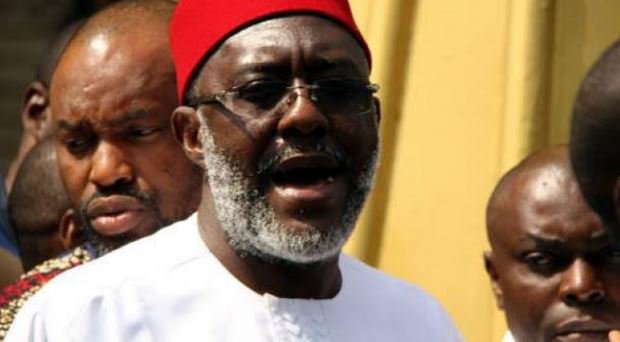 Okon Abang, a justice of the federal high court Abuja, has adjourned the trial of Olisa Metuh, former spokesman of the Peoples Democratic Party (PDP), to May 30 after Onyechi Ikpeazu, the defendant's counsel, told the court that his client was on bed rest at the National Hospital, Abuja.
Earlier on Monday, the judge adjourned the case till Tuesday for the continuation of the testimony of the fifth defence witness, Richard Ihediwa.
However, Ikpeazu presented the judge with a medical report and sought an adjournment of the case since his client was not present in court.
He said since Metuh had not been granted bail, section 352(4) of the administration of criminal justice act 2015,where the court can proceed with a criminal trial if a defendant has been granted bail, does apply.
EFCC's counsel, Sylvanus Tahir, did not oppose the application for adjournment. He, however, cited section 266(a) and (b) of the ACJ act which compels a defendant to be present in court whenever his trial comes up.
The judge said the medical report was not helpful as it did not show how long Metuh will be in the hospital.
Abanh fixed ruling on an application by Metuh seeking the release of his passport to enable him travel to the United Kingdom for medical treatment to Wednesday.
The Economic and Financial Crimes Commission (EFCC) took Metuh and his company, Destra Investments Limited, to court over charges relating to the fraudulent collection of N400m from the office of the national security adviser in November 2014 and money laundering involving alleged cash transaction of $2m.
The Cable NG